Our Team
Our main inspiration for Hirundo was the Swallow
A bird that symbolizes spring and new starts. They travel the world freely but always return home at their own pace bringing new life and freshness. This is the essence of Hirundo.
Filipe and Eduardo have always been passionate about shoes and sneakers in particular, a taste they got from their father, who bought beautiful shoes. Some of them are 45 years old and still worn from time to time.

Having both traveled and worked around the world separately, they decided to move back to Portugal because they missed it so much.

Their shared interest eventually led them to mod their own shoes with the help of local cobblers. First to make them last longer and gradually to enhance key features such as lightness. They sought the best materials, the most incredible craftsmanship and visited every single shoe factory in Portugal (I mean almost) to touch, feel and select the very best.

Having met Pierre - a beauty insider- barefooted on a sandy Portuguese beach, it was obvious he needed to be part of the Hirundo adventure…helping us with his business acumen.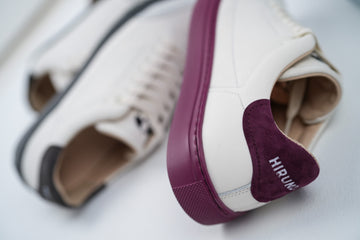 Finally the Trio knew that if Hirundo was going to succeed it needed a Creative Director, someone with good taste, fashion sense and a cool attitude. Ann was the right person who added (more than) her personal touch to Hirundo!

Creating Hirundo was the opportunity to share with like-minded people our passion for quality sneakers made from sustainable materials while elevating Portuguese craftsmanship.

It took us the better part of a year to find the relevant suppliers, study the materials we wanted and above all design the sneakers that reflected our desire to slow down.